Asian Blending has been manufacturing high quality blends and premixes since 1992, specializing in dry mix ingredient solutions for the beverage, dairy, confectionery sectors of the food industry. We deliver complete blending solutions to our customers from our state of the art manufacturing facilities. We operate under the highest food-safety standards and protocols, starting from quality checking of inbound ingredients to final blends before arriving at our customer's premises. Our production area is located within a critical hygiene control area where food safety is optimized. Our unwavering commitment to quality and service makes us who we are today as we continue to develop our expertise and flexibility in product innovation.
Strategic Location
We are ideally located in Singapore, a freeport and a major logistics hub for Asia and Oceania trade flows for competitive ingredient supply and blend delivery, while being able to take advantage of Singapore and ASEAN Free trade agreements. We are located on the same site of our parent company, SIS Sugar which is the number one brand for sugar in Singapore. Through the SIS sugar silo we have access 24/7 to highest quality refined sugar with no double- handling, no human intervention and no shortfall in supply. We have an annum plant capacity of 65,000 metric tonnes, supplying premixes to major food and beverage corporations.
Quality
Asian Blending provides computer-controlled accuracy of blends and excels in all government and customer audits achieving SFA (previously known as AVA) Grade "A" rating since inception. Asian Blending is also FSSC 22000, Halal accredited.

Sustainable Sourced Ingredients
Asian Blending is committed to support sustainable ingredient supply and part of UTZ and Certified Chain of Custody from Bonsucro.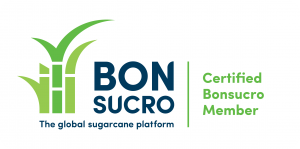 One Stop Supply Chain
At Asian Blending, we focus on all efforts from procurement of raw materials to the shipment of the finished product. We provide a one-stop service for our customers through consolidated purchasing, sourcing and logistics providing a more effective and efficient supply chain.
Packaging
We offer various packing sizes for retail sized sticks or sachets, industrial sizes from 25kg to 30kg multi-wall heat-sealed paper bags. We can also pack 500kg to 1000kg bulk bags with EVOH polyethylene barrier lining. Precision pack sizes are also possible to meet specific customer processing requirements.
Export
We export world-wide and we are also Certification and Accreditation Administration of the People's Republic of China (CNCA) listed as one of the approved manufacturers in Singapore to export dairy products to China.